Crochet Rose- FREE pattern
With quick and easy techniques, you can crochet rose variations in a flower's size, shape, and even color. Crochet flowers are a great way to finish a project that needs a little extra something. They make the perfect embellishment when added to crochet loveys, snugglers, amigurumi, headbands, blankets, sweaters, and more. The versatility of this DIY crochet rose is unlimited. I like to use my crochet rose as an accessory to add femininity to my faux fur animal snugglers. I've designed my mini-rose for making small rosettes with leaves.
Mini Crochet Rose Video Tutorial
Please note that this post contains affiliate links, as an Amazon Associate I will earn a small commission at no extra cost to you. Thank you for supporting my work and this blog.
How to crochet a mini rose?
Crocheting a rose is an easy, quick, and absolutely fun project. It is a great stash buster, as you can create several different colors and sizes to use up those left over yarn scraps. By simply using different sizes of crochet hooks, you can make smaller more petite roses or use a larger hook with chunky yarn to create a bolder rose.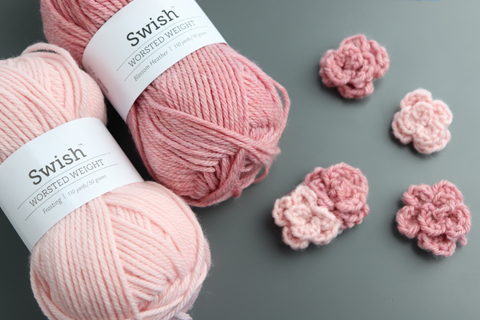 What yarn do I use to make a crochet rose flower?
Use smaller-weight yarns to achieve a dainty crochet flower and DK weight or worsted weight yarn to create a medium size flower. If you are looking to achieve a puffy look, using DK weight or medium/worsted weight yarn can also be effective. We have listed some of our favorite yarns for each yarn weight category.
What is the meaning of a rose color?
I often use crochet rose flowers as an accessory to add femininity and decipher between a male and a female faux fur animal in my crochet projects. When deciding on a rose color, ask yourself what message you are trying to relay, what color your little one likes, or the theme of the nursery you are designing your rose to match. Let's explore the versatile color meanings of each rose color found on the ProFlowers website:
White Rose= Purity, chastity, innocence
Ivory Rose= Charm, Luxury and Elegance
Yellow Rose= Friendship, Care and Remembrance
Peach Rose= Modesty, Genuineness and Sympathy
Orange Rose= Passion, Desire and Fierce Love
Pink Rose= Sweetness, Admiration and Joy
Red Rose= Ultimate Love, Passion and Longing
Lavender Rose= Majesty, Fascination and Splendor
Green Rose= Harmony, Peace and Health
Blue Rose= Unattainable Love, Desire and Mystery
Black Rose= Death, Elusiveness and Farewell
Mulitcolor roses = happiness and joy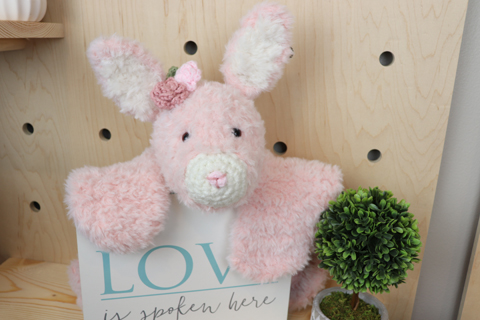 Materials needed to crochet a rose
HOOK
YARN I USED:
WeCrochet Swish Worsted Blossom Heather (dark pink) • Approx 5 yds used
WeCrochet Swish Worsted Frosting (light pink) Light Worsted Weight • Approx 5 yds used
NOTIONS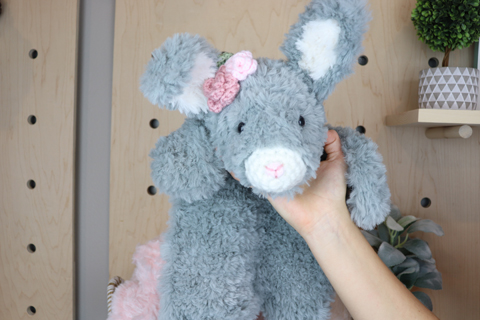 Crochet Rose Pattern
Light Pink Rose
Using one strand of WeCrochet Swish Worsted Frosting and 4.5 mm hook:
Row 1: Ch 8, sc in 2nd ch from hook and in ea st across. (7)
Row 2: Ch 1, turn, *sl st, ch 1, dc 4, ch 1, and sl st,* repeat total of 3 times, in next st, *sl st, ch 1, hdc 4, ch 1, sl st,* repeat 2 times, in next st, *sl st, ch 1, sc 4, ch 1, sl st,* repeat in last 2 sts.
Tie off leaving long tail to sew rose together.
Sewing rose together:
Wrap the rose in a spiral shape starting in the middle of the rose and working to the edge, using long tail to secure into shape.
Larger Dark Pink Rose
Using one strand of WeCrochet Swish Worsted Blossom Heather and 6 mm hook following the same steps as light pink rose.
Sewing roses and leaf together:
Sew the two roses together working back and forth from one rose to another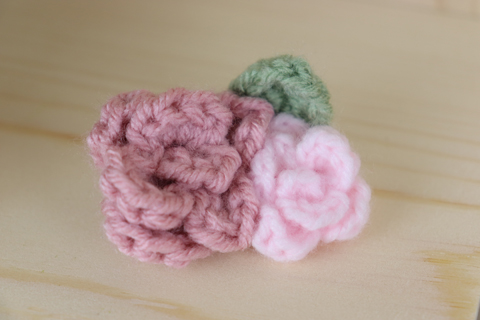 Be Creative with your Roses
Have fun with this DIY crochet rose….. use different size hooks, different weighted yarns, and different colors for the most unique and fun crochet roses!
PIN NOW, CROCHET LATER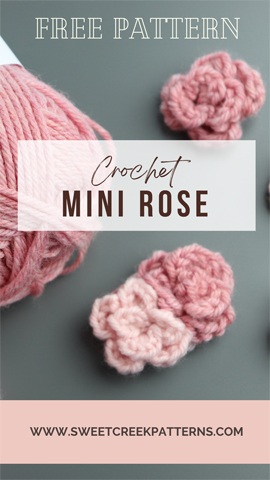 Available Sweet Creek Patterns that use Mini Roses
XS Bunny Pattern
Small Bunny Pattern
Medium Bunny Pattern
BUNDLE Bunny Pattern