FREE Crochet Slipper Pattern with Faux Fur Yarn
This FREE Crochet Slipper Pattern utilizes the softness of Faux Fur Yarns and creates a plush treat for your feet! Crocheted in the round with a simple stitch and criss-cross accent over the top of the foot. I love how faux fur yarn adds comfort and beauty to any piece. Cozy and comfortable, these plush slippers make the morning routine more pleasant.
I designed this faux fur crochet slipper pattern as part of the 12 Weeks of Gifting for WeCrochet's 2022 Christmas season. This FREE crochet slipper pattern is available to download from the WeCrochet website here

This post contains affiliate links that support the content on Sweet Creek Patterns. As an Amazon Affiliate I make a small commission on these products at no extra cost to you. All opinions are my own. Read my Privacy Policy.
Pattern Details:
These slippers are crocheted in the round using WeCrochet Fable Fur. The pattern uses:
–One hook (7.0mm)
-Two strands of WeCrochet Brava Bulky throughout to make them nice and thick
-One strand of WeCrochet Fable Fur throughout the whole pattern.
–Suede Slipper Bottoms by WeCrochet are an optional piece to give extra grip and sturdiness.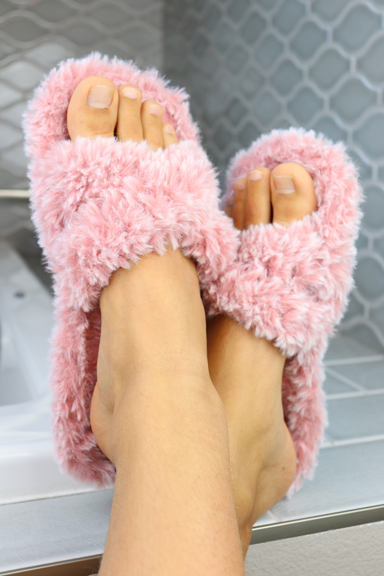 TIPS FOR WORKING WITH FAUX FUR YARNS
Large hooks work better than smaller hooks. I prefer the Clover Amour Hooks in sizes 8-15mm. I have no complaints about the hooks, and I have never heard anyone else complain about them… only praises about how good they are. It is worth the money to buy good hooks, I especially recommend beginners to buy good Clover Amour Hooks because a good hook makes all the difference!
Stitch markers work really well for marking the beginning/end of a row.
Feel your stitches. If you feel along your stitches, you can picture the stitch that you are creating, and it makes it easier to count stitches.
Make a knot at the end, and cut off the fur…. no need to tie in ends!!! This is my absolute FAVORITE feature about faux fur yarns…. you NEVER have to tie in ends, it all blends in!!!
Finally, relax! Faux fur yarn is very forgiving and does not show when you miss a stitch.
Related Faux Fur Crochet Patterns From Sweet Creek Patterns:
Small Dog Bone Stocking Crochet Pattern
Large Dog Bone Stocking Crochet Pattern
Related At-Home Spa Crochet Patterns From Sweet Creek Patterns:
Pin for later: