Crochet Hair Towel- FREE Pattern
A classic crochet hair towel pattern using a simple half-double crochet design that features a gorgeous front-post-back-post stitch along the base of the turban. I love the way the post stitch twists its way through the turban when it's wrapped around the head.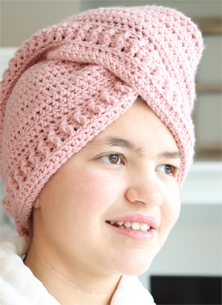 I designed this pattern to be featured in WeCrochet 12 Week of Gifting. Every year WeCrochet gifts 12 FREE crochet patterns leading up to Christmas. These crochet patterns work up quick and easy and make for great Christmas gifts. The Blissful Hair Towel is made with WeCrochet CotLin, which is a DK Cotton / Linen blend. It is an extremely nice yarn to work with and is a perfect blend of fibers to be used as a hair towel. The yarn fibers easily soak up the water in your hair and then dry-out quickly, once your done with it. Download the FREE Blissful Hair Towel Crochet Pattern from WeCrochet.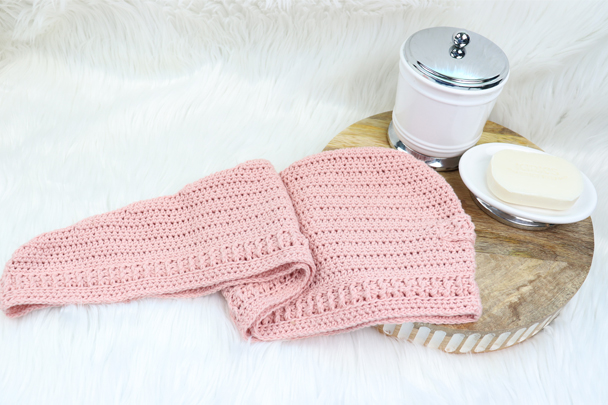 How to Assemble the Blissful Hair Towel crochet pattern
This pattern is crocheted from the bottom up and decreased accordingly. You crochet two individual panels and then single crochet them together. The last step is to add the hang tag, which you tuck the long tail into, making the pattern super simple.
How to use the Blissful Hair Towel
There are three very easy steps to using the turban hair towel.
First, bend over and place the hair towel around your head & hair, so the hang tag is covering the back of your head.
Next, cinch the hair towel around your hair at the front of your forehead and twist the hair towel
Finally, take the rest of the hair towel after the twist and bend it up and around your head and tuck it into the hang tag.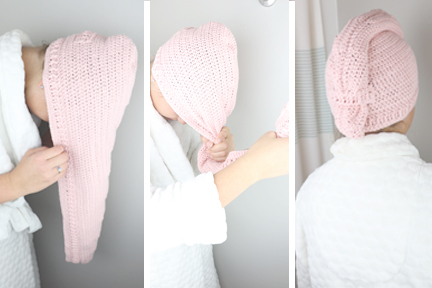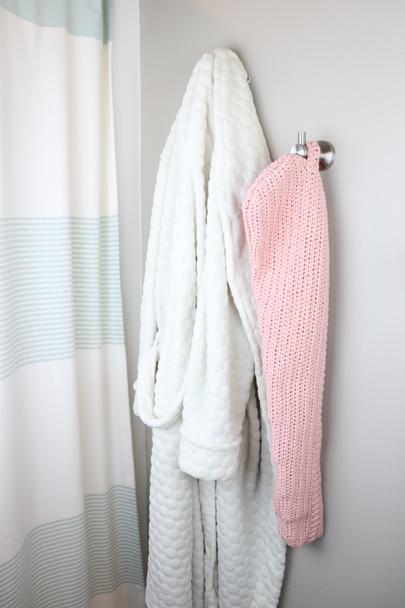 Related christmas patterns:
Blissful Hair Towel Free Crochet Pattern
WeCrochet 12 Days of Gifting 2022
Large Boho Dog Bone Stocking Crochet Pattern
Small Boho Dog Bone Stocking Crochet Pattern
BUNDLE DEAL Boho Dog Bone Stocking Crochet Patterns
*This post contains affiliate links that allow me to make a small commission on linked products at no extra cost to you.