Top 12 Modern Faux Fur Christmas Crochet Patterns
I am so excited to share with you these beautiful and inspiring Faux Fur Christmas Crochet patterns. I love faux fur yarns, and all these crochet patterns feature faux fur yarns in some way. These patterns are designed by some of my FAVORITE crochet designers. It is my dream to one day collaborate with them in designing gorgeous modern faux fur crochet patterns to share with all of you!
This post contains affiliate links that support the content on Sweet Creek Patterns. As an Amazon Affiliate I make a small commission on these products at no extra cost to you. All opinions are my own. Read my Privacy Policy.
All of these crochet patterns feature faux fur yarns. Two of my favorite faux fur yarns are Fable Fur by WeCrochet and Go For Faux by Lion Brand.


I love this tree skirt crocheted with Fable Fur from WeCrochet. It creates a soft elegant Christmas look that is timeless.
The Pinewood Pillow is crocheted with Go For Faux THICK & QUICK by Lion Brand. I capitalized the words thick & quick, because there is a huge difference between Go For Faux yarn and the Go For Faux THICK & QUICK. The thick & quick yarn has 3 strands of fur yarn wound together to make one strand of yarn. Therefore, it is naturally thicker than the single strand of fur yarn in the Go For Faux. This extra thickness can make patterns really quick to work up, but it can also make your final product a lot larger than you originally intended. So, carefully read the suggested yarn types in your pattern before you start.
You can easily customize this Faux Fur Wreath for any holiday or gift need.
Simply elegant. The Faux Fur Christmas Tree crochet pattern comes in 2 different sizes, and is the perfect accent piece in any room.
These ornaments are quick, easy, and inexpensive to make, and would be a crafty thing to make with a bunch of girls. They can easily be customized with different colors of faux fur, various hang ties (including twine and ribbon), beads, buttons, and accessories to accent and customize each ornament.
Soft & cozy and perfect addition to any holiday decor.
I love FAUX FUR yarn….. I also love BOBBLES….. and I also love BIG hooks. My favorite big hooks are from Clover Amour, they make such a difference when you are crocheting bulky yarns. So, the combination of the faux fur yarn, bobbles, and big hooks in this pattern makes my heart skip a beat!
Faux Fur and Bobbles, MMMMM…. what more can I say!
Pin it for later: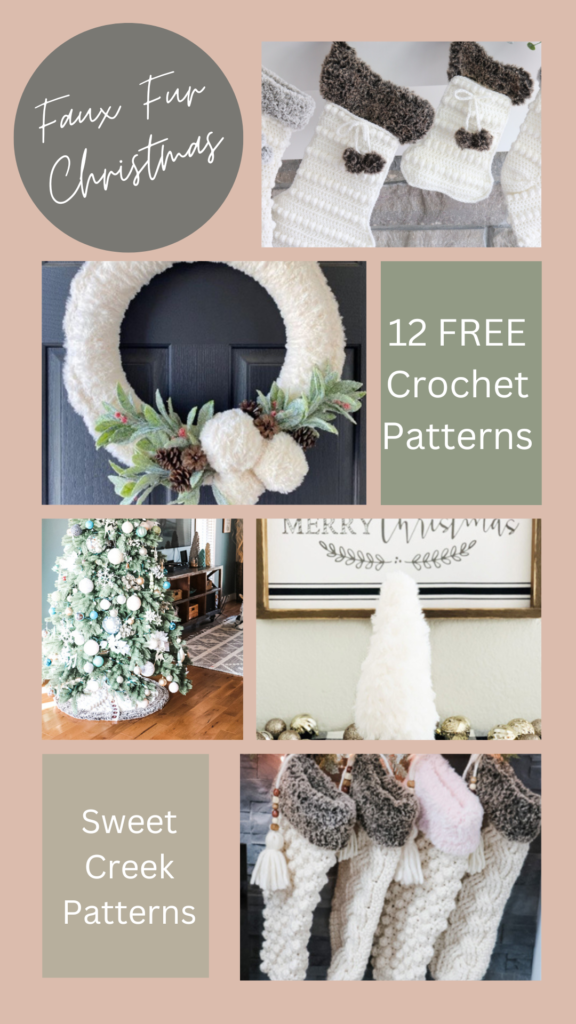 There you have it, my favorite Faux Fur Christmas crochet patterns! Who's ready to do some crocheting!
Other Related Patterns:
Small Faux Fur Dog Bone Stocking Pattern– Free pattern
Large Faux Fur Dog Bone Stocking Pattern– Free pattern